Erik ten Hag admits he has a 'HELL of a job' on his hands after losing his first Premier League game as Man United boss... with the Dutchman warning his flops they must 'learn quickly' and cut out 'mistakes'
* Erik ten Hag admitted he has his work cut out after Manchester United's defeat
* The Dutch manager felt his players must 'learn quickly' from their match errors
* Pascal Gross scored twice as Brighton ran out 2-1 winners at Old Trafford
Manchester United manager Erik ten Hag spelt out the size of the challenge facing him at Old Trafford after losing his first Premier League game yesterday.
Defeat by Brighton brutally demonstrated the task facing Ten Hag, who is the fifth permanent United manager since Sir Alex Ferguson retired in 2013.
'It is a hell of a job,' he admitted. 'It will not come overnight. I think we should have done better, that's clear. It's a setback. It's a disappointment and we have to deal with it.
It takes time but we don't have time and we have to deliver. We are aware of the situation.
'We have to win every game, that has to be the attitude. It is clear we are not happy with this game, we have to take the lessons and move forwards.'
Ten Hag acknowledged that the confidence and self-belief among his squad is fragile coming off the back of United's worst Premier League campaign on record.
'We dropped down in belief during the first half and that cannot happen,' he added. 'I can understand that after last year but it's not necessary as they are good players. Self-belief is from yourself, bring it on the pitch.'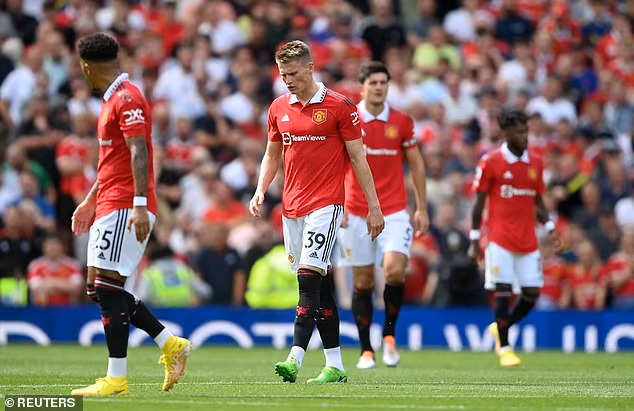 Erik ten Hag said his Man United players must 'learn quickly' from errors in Brighton's 2-1 win. The boss feels no need to sign new United stars, stating the current players 'could do better'
Ten Hag defended his decision to start Cristiano Ronaldo on the bench and play Christian Eriksen as a false nine.
'Ronaldo is maybe in team training for 10 days, that's too short for 90 minutes and the reason we didn't start him,' he said. 'He has to do a little bit more to get fit. This will help him and he will be better next week.
'It was clear to see that second half we were better in the midfield with Eriksen deeper and Ronaldo up.'
Ten Hag still wants to strengthen in attack and it is understood that United have had a £7.5million offer to Bologna for former West Ham striker Marko Arnautovic turned down.
United want to bring in the 33-year-old Austrian in as a squad player.
'I don't go into names,' Ten Hag said on Arnautovic. 'We have two strikers, maybe a third one with Marcus Rashford as well.'
Meanwhile, former United striker Danny Welbeck was excellent for Brighton on his return to Old Trafford despite the effects of a stomach bug.
Brighton manager Graham Potter joked: 'He would have strapped the toilet on to his backside to play.
Code:
https://www.dailymail.co.uk/sport/football/article-11089495/Erik-ten-Hag-admits-HELL-job-hands-Man-Uniteds-home-loss-Brighton.html
EtH, welcome to PL